Services
The Holy Trinity Center offers a variety of services to enhance your event and make it truly distinct. You may choose to add as little or as many of these services as you would like.
DJ Services
Our In-House DJ Jimmy Mac's Services Include:
A full "State of the Art" sound system including compact disc player, Dell inspiron laptop, crown amplifier and much more.
I always wear a Tuxedo for all formal occasions.
Wireless microphone (available for the best man to toast from the bridal table).
Dance Lighting-(optional by request)
When booking through the Holy Trinity Center, you avoid all agency fees and receive the best entertainment value in Pittsburgh.
A wide range of music from 1930 to the latest hits including Top 40, Oldies, Rock & Roll, Classic Tracks, Country, R&B, Jazz, Alternative, Polkas and Big Band.
The Holy Trinity Center Host and I will schedule and run your reception, at your request. Including handling all announcements, coordinating all events, and giving detailed instructions to the bride and groom. Therefore you and your family can enjoy the reception without worry.
You and your guest may request songs, announcements, etc... before and during your reception.
When booking your reception at the Holy Trinity Center, don't forget to use the personal professional services offered exclusively at Hampton Banquet Hall. I will be looking forward to meeting you and entertaining you and your guests at your reception.
Visit DJ Jimmy Mac's Web Site or call at (412) 833-8579.
Cakes
FENOGLIETTO'S Ultimate Wedding Cakes Website
Visit Website
or call at (724) 335-5359.
Chocolate Fountain
The Holy Trinity Center now offers an all-inclusive 5 tiered Chocolate Fountain service!
Includes:
Two and a half Hours of Unlimited Gourmet Chocolate
Your Choice of Milk, Dark or White
Professional Staff for Set-up and Clean-up
Plates, Napkins, Skewers, Pretzel Sticks, Marshmallows, Assorted Cookies, Fresh Strawberries and Pineapples
Cost: $350
Wine Fountain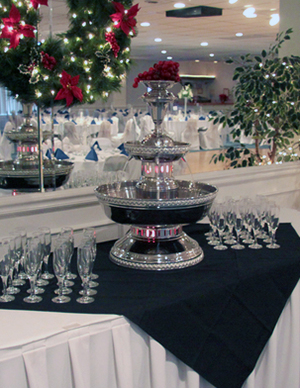 Our wine fountain is suitable for many types of drinks including:
Champagne
Wine
Mimosa
Punch
The champagne fountain is made of stunning high quality stainless steel and is internally lit with subtle lighting.
Pricing depends upon the number of guests and type of fountain. Please call for more information.
Ice Sculptures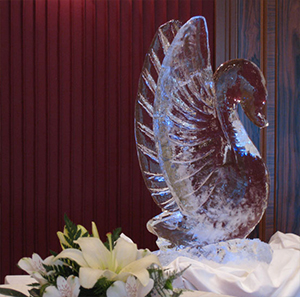 The Holy Trinity Center is pleased to offer the services of Ice Creations. Ice Creations will honor discounted pricing on all ice sculptures for any customer hosting their event at The Hampton Banquet Hall. For more information call (412) 824-5636 or please visit the icecreations.com website.